From monitoring the integrity of the GPS constellation, to situational awareness for theaters of operation, to the support of critical operations world-wide, the GDGPS System can assess the performance of the GNSS navigation signals in real-time.
JPL's network tracks each GNSS satellite with a denseR, global tracking network that provides extraordinary level of redundancy and the opportunity for strong majority voting schemes.
Our suite of monitoring tools provides customized alarm thresholds with as little as 4 seconds time to alarm, graphical and binary user interfaces, communications protocols, and around-the-clock operations for the most demanding applications. The GDGPS staff of engineers can tailor a performance monitoring application for your needs.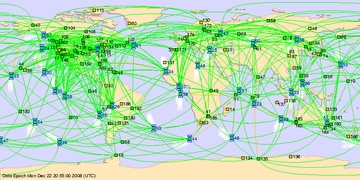 Snapshot from the JPL GPS Integrity Monitor web page (restricted access), depicting links between the GPS satellites and the ground tracking sites.